Artist statement:
Our life is a work in process, a spiritual journey. To me, art is a way of expressing the inexpressible. Through my art I would like to share this wonder of our existence.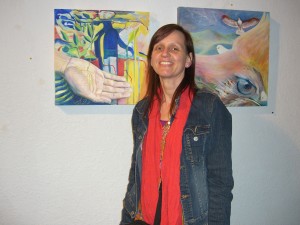 In my recent paintings I have been exploring devotion, bhakti, divine love; and how this love manifest in our lives. Obstacles, and their lessons are the key. What is Grace? What came first: our love for God or God's love for us? My paintings are my prayers and my thanks to the big creator.
I get inspiration from life itself, my spiritual journey, reading and meditating, but then I have to put everything aside. Starting playfully, chaotic and abstract seems for me the best way to intuitively let the images show up on the canvas in whatever way they flow out of the brush. I try to leave room for ambiguity, and let everyone discover their own hidden mystical story.
Somewhere between abstract and realistic expression, my artwork is an opportunity to consolidate the inner and outer worlds. Like a mirror, the outer journey seems to reflect an inner journey.
Bio:
Claudia Dose was born and raised in Northern Germany. Her early creative interests and talents brought her to study Art and Design at the Universities of Hamburg and Hannover where she received a BA in Design. Her fascination with texture, color and depth comes from her background in weaving and hand-stitching.
After traveling and studying a year in Asia/India (sketchbook) she returned home full of new inspirations and ideas. She came back to find that she had won second place in the International Design Competition, of the Design Center Stuttgart. She took the prize money as a sign to keep doing what she loved, and accepted an invitation to come to Australia where she lived for five years working as a priest. During this time she explored her creativity as a mosaic artist.
Her work as priest and her interest in Philosophy led her to the United States, where she has lived since 2000. Her spiritual work and her creativity have come together in a wonderful balance, and express and reflect her spiritual practice and studies.
With a focus on portraiture, Claudia won the 8th Annual Faces Juried Online International Art Exhibition in 2003. In 2012 she won first prize for her portrait painting "Fragile" in a juried Art Exhibition in Los Angeles.
She has exhibited regularly since 2009. Her paintings are in private collections all over the world. She has completed numerous commissions for private and commercial customers.